Connected: An Internet Encyclopedia
A Real Example (cont)
---
Up:
Connected: An Internet Encyclopedia
Up:
Programmed Instruction Course
Up:
Subnetting and CIDR
Prev:
A Real Example
Next:
Nested Prefixes
---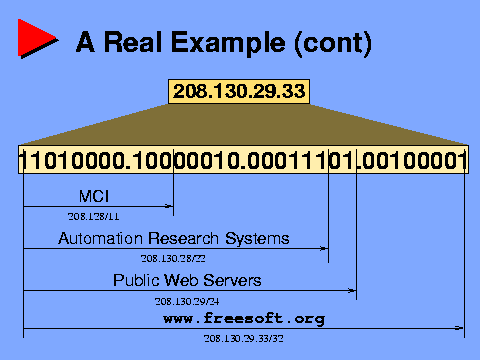 www.freesoft.org's IP address, 208.130.29.33, is shown expanded into binary, with each of its address prefixes expanded and labeled.

So, which address prefix would actually be used? That depends on your location in the network. From a distant Internet provider, the single prefix 208.128/11 would match hundreds of MCI's customers, including ARS, and direct traffic towards MCI's network. Why maintain hundreds of table entries when a single one will do?

As we get closer to the destination, specifically as the traffic passes into MCI's network, more fine grained table entries appear, including one for 208.130.28/22 that directs traffic towards the fractional T-1 link connecting ARS with MCI.

Once the data passes onto ARS's network, a table entry matching the prefix 208.130.29/24 indicates a route to the public web servers' Ethernet, and an ARP resolution converts 208.130.29.33 into an Ethernet address for final delivery.
---
Next:
Nested Prefixes
---
Connected: An Internet Encyclopedia
A Real Example (cont)