Connected: An Internet Encyclopedia
IP Addressing Review
---
Up:
Connected: An Internet Encyclopedia
Up:
Programmed Instruction Course
Up:
Subnetting and CIDR
Prev:
Subnetting and CIDR
Next:
Binary Numbering Review
---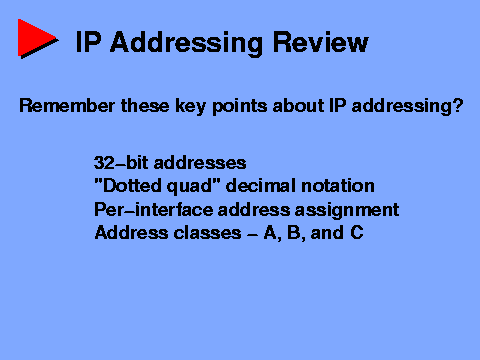 Take a minute to review these key points about IP addressing:
IP addresses are 32-bit addresses used by the IP protocol to specify source and destination hosts.

To simply readability, IP addresses are conventionally seperated into four bytes and written in dotted quad notation: four integer numbers ranging from 0 to 255, seperated by periods.

Every network interface is assigned a unique IP address.
If you're uncomfortable with any of these concepts, review the IP Address and Address Classes pages in the Topical Core.
---
Next:
Binary Numbering Review
---
Connected: An Internet Encyclopedia
IP Addressing Review