Connected: An Internet Encyclopedia
Historical Development of IP Addressing
---
Up:
Connected: An Internet Encyclopedia
Up:
Programmed Instruction Course
Up:
Subnetting and CIDR
Prev:
Quiz #2
Next:
Classful Addressing
---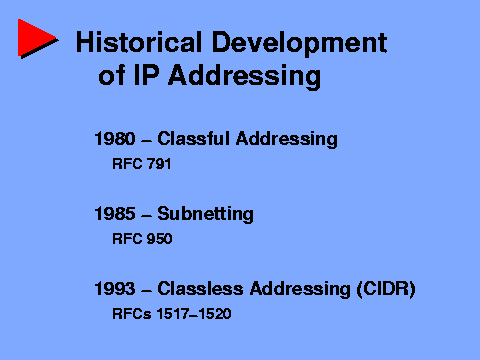 IP Addressing developed through several historical stages. The original classful addressing scheme in use in 1980 was augmented with subnetting in the 1980s, then supplanted by CIDR in the early 1990s. Each change introduced more flexibility into IP address design.

CIDR is the addressing scheme we have studied so far in this chapter. The remainder of this chapter focuses on how the earlier IP addressing schemes differ from CIDR, and what restrictions are imposed when backwards compatibility must be maintained.
---
Next:
Classful Addressing
---
Connected: An Internet Encyclopedia
Historical Development of IP Addressing